Support Local, Love Your Community
With love for our local community, we are pleased to showcase some of the local businesses that R A Jackson works with, who offer the individuality and authenticity that depicts North Tyneside.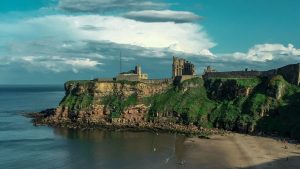 With love for our local community, we are pleased to showcase some of the local businesses that R A Jackson & Son works with, who offer the individuality and authenticity that depicts North Tyneside. We will soon be launching a series of conversations with some of the people behind local businesses we work with,  shining a light on their contribution to the community in North Tyneside. 
Operation Veteran
Operation Veteran is a truly special non-profit organisation, dedicated to providing support to veterans during their transition to civilian life. Having recently moved to new premises at 38 Nile Street in North Shields, Operation Veteran has a lovely coffee shop open to the public and run with the support of volunteers. Have a look at their website or Facebook page for more information on the great work they do and pop in for a coffee if you're nearby. 
Destinations by John 
Independent Travel agency, Destinations By John, has recently opened on Whitley Road in the heart of Whitley Bay.  As an independent business, they offer open and honest advice, matched by exceptional deals. 
With worldwide travel experience, in-depth cruise knowledge and direct connections to all leading tour operators, they offer tailor-made experiences to holiday-makers. Destinations By John are available to discuss holiday dreams either over the phone or face to face so if you're dreaming of your next getaway, do get in touch through Destinations by John website or via their Facebook page.  
Eat Clean 
Eat Clean has just launched in Park Avenue, Whitley Bay, offering a range of healthy meals and drinks. Their signature Clean Boxes are available with a selection of fish, meat and vegetable options, complementing their brunch, wraps and smoothie selections.   Available to eat in or takeaway, Eat Clean is a fantastic addition to the growing Whitley Bay food scene. 
Blue Talking Therapies 
Blue Talking Therapies brings together a team of highly experienced and fully accredited psychotherapists and counsellors, based on Howard Street in North Shields. 
Helping people to recover from mental health issues, using evidence-based treatments, 
Blue Talking Therapies is a fully confidential service provided in discreet and comfortable therapy rooms. They offer a range of therapies including Cognitive Behavioural Therapy used mostly to treat anxiety and depression, one- to-one counselling, Interpersonal Therapy and Eye Movement Desensitisation & Reprocessing to help deal with past trauma. 
For more information and for details of how to get in touch, visit Blue Talking Therapies website or their Facebook page
Fandangos Emporium 
Fandango's Emporium offers an eclectic collection of skater and vintage clothes, prints and merchandise from iconic films, TV series and computer games. Located on Park View in Whitley Bay, Fandangos are part of the fabric of independent retailers along the street that The Guardian recently named as one of the 10 cool shopping districts around the world. 
What are the benefits of supporting local?
'Support local' has become a well-heard phrase in recent times. Local communities are emphasising support for local businesses, encouraging spenders to choose local products and services over larger national chains. 
When we buy from smaller businesses we are helping to support the local economy. As an example, when we buy from a small local shop, the money we spend goes directly to the local shop owners who will then spend that money at another local shop, bar or restaurant, helping to keep the money in that local community. 
By supporting local businesses, we are helping to create jobs, making our local area a better place to live and work. Local jobs are also surprisingly more likely to pay higher than their commercial chain counterparts. 
In terms of customer experience, large commercial chains often lack the character and personality of smaller independent businesses. Local businesses bring us unique creative concepts and products that attract tourists and make our neighbourhoods special. Not to mention, the overall experience is often a lot more personal and bespoke. 
In order to keep our local community thriving, shopping local is more important than ever.
Contact Us
If you are the owner of a local business and looking to rent a commercial space, get in touch on 0191 257 1253 or sales@rajackson.co.uk