About Us
Introduction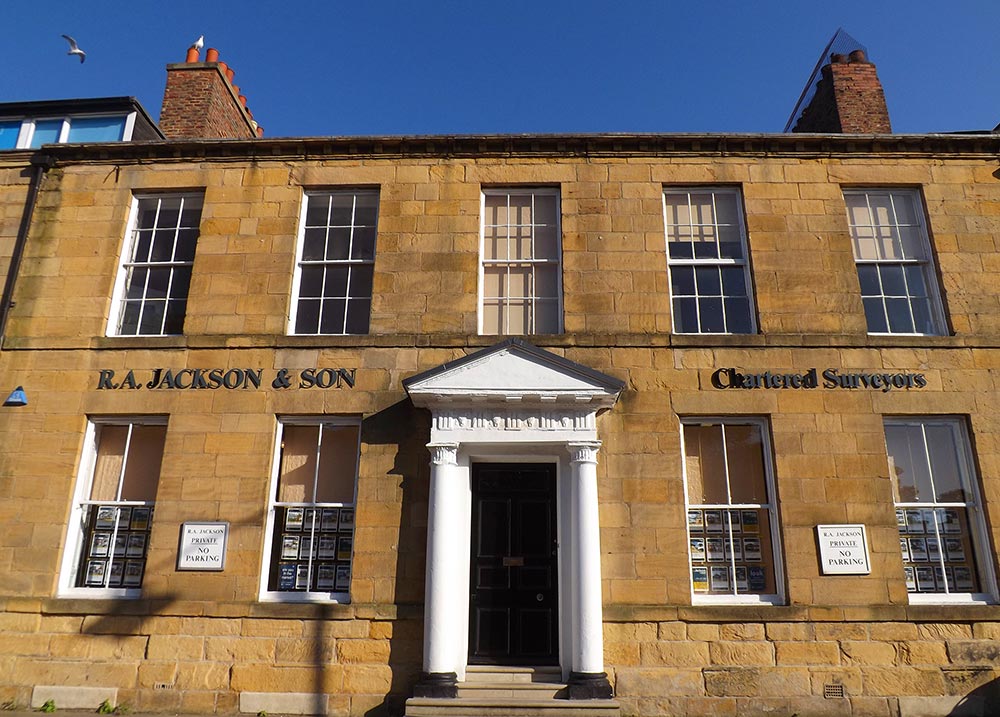 RA Jackson offices at 18 Northumberland Square, North Shields.
RA Jackson and Son Chartered Surveyors and Estate Agents have been providing residential agency, commercial agency and professional valuation services since 1830.
We are sure you will agree, things have certainly changed in that time. So have we!
Our company has evolved with changing market demands. Our estate agency principles are simple.
We provide a direct and robust approach to marketing our properties with no gimmicks or flashy veneer whilst maintaining professional standards as members of the Royal Institution of Chartered Surveyors.
With many years of estate agency experience we deliver a unique level of marketing and expertise in the sale and letting residential property, commercial property, land and businesses. Our strategy is to ensure that maximum exposure is delivered, locally, regionally and nationally to achieve the best results for our clients.
The Chartered Surveyors at RA Jackson and Son are also RICS Registered Valuers who conduct professional valuations of commercial and residential properties across the North East.
RA Jackson & Son also provides a well-established property management service for both residential and commercial property.
Residential
R A Jackson & Son are an Estate Agent in the purest sense. We have been selling and renting homes in North Shields, Tynemouth, Whitley Bay and surrounding areas across North Tyneside in Tyne and Wear since 1830. We have built up a reputation for offering a simply 'first class' personal service.
We are proud of our friendly and efficient team who work and have lived in the area for many years providing buyers an important insight of what has become one of the most popular places to live in the north east. We know only too well just how important your home is to you and what it is to live in this enriching location.
Whether buying or selling we will make it our highest priority to make it a happy and successful experience.
In order to achieve results we adopt a wide variety of sales and marketing strategies.
Effective marketing starts by doing the simple things first. We will call potential buyers or tenants registered on our database and sell the benefits of your property. Then we will email details out to prospective buyers and tenants as well as using other forms of marketing such as press advertising and of course, we advertise our properties on both Rightmove and On the Market a constant source of new enquiries.
Oh, and call us old fashioned! We have a fully accessible agency office right in heart of North Shields town centre on Northumberland Square with a prominent double fronted office providing extensive window displays acting as a hub where potential buyers and tenants are always welcome to spend time discussing our properties and to find out about this fantastic place to live.
Commercial
As Chartered Surveyors and estate agents, RA Jackson and Son commercial department promote all types of commercial property and land across the North East combining a robust approach to property marketing alongside an experienced understanding of the complex issues often encountered with these types of instructions.
Our main area of expertise lies within the North East. Our agency surveyors are James Barlow and Richard Fenwick. Both North East born and raised and proud of it.
James and Richard have operated within the North East successfully for over 25 years covering a geographical area from the Scottish Borders and Northumberland to North Yorkshire and including significant commercial areas such as Newcastle upon Tyne, Sunderland, County Durham and Teeside. Their extensive local knowledge and continuing desire to provide the best levels of service is why so many local and national clients chose us to deliver their property requirements and sets them apart from many other agents.
Richard and James are also RICS Registered Valuers who are valuing properties of all types on a daily basis for a variety of clients including Lloyds Bank and Handlesbanken. We feel this professional level of expertise and in-depth access to local market activity is a level of knowledge that many other agents simply cannot deliver to clients who demand accurate advice quickly for the benefit of their businesses.
Auction
James has sold residential property, commercial property and land by auction for over 20 years. He has become the preferred Chartered Surveyor for many other agents, public bodies and professionals in the North East who have property to sell at auction.
Now at RA Jackson and Son, James continues to offer his advice and expertise to clients that choose auction to sell their property.
Clients will use us to help sell their property based on experience of delivering a professional auction service and as an RICS Regulated Firm.
Business Sales
In order to achieve results we adopt a wide variety of sales and marketing strategies to suit specific needs ranging from a discrete approach to full exposure in the market place.
Effective marketing starts by doing the simple things first. We will speak to potential buyers registered on our database and sell the benefits of a business. This will then be extended by using targeted mailing of firms that may be interested in a business, email alerts to prospective purchasers and professional contacts such as banks, accountants and solicitors as well as using other forms of marketing such as press advertising and trading magazines where appropriate.
Our experience covers many sectors including licensed and leisure, retail, hotels, investments, manufacturing and engineering.
Acquisition
We understand the importance of clients working demands and that the decision to buy or rent a property may require the assistance of an appointed agent that can act on your behalf.
RA Jackson recognises the individual needs of buyers and tenants which allows us to act as an effective acquisition agent. With our extensive internal and external databases and market knowledge, we are able to find the most suitable opportunities for clients across the North East.
We provide an acquisition service that begins with an initial discussion to establish property requirements, carry out a detailed search of potential accommodation and presentation of recommendations. We will arrange and attend site visits, short-list potential properties with detailed recommendations an undertake full negotiations and including fair and reasonable terms for the client and then finally monitor the contractual period to completion of the transaction.
Property Management
RA Jackson and Son have a well established property management department operated by some of the most experienced specialists in the region. Whether you own a portfolio of residential and or commercial premises or just a single property that requires letting and managing, we can provide a level of service that is furnished to suit your specific needs.
Energy Performance Certificate
We arrange Energy Performance Inspections at competitive rates.
Changes to legislation means that most properties require an EPC when selling or letting.
The EPC will provide an energy rating, so potential buyers and sellers can consider energy efficiency as part of their decision making process.
For the purposes of the regulations for a building to fall within the requirement it must have a roof, walls and use energy to condition the indoor climate. Services that are considered to condition the indoor climate can include: space heating, mechanical ventilation or air conditioning.
This is a statutory obligation and should your property fall within the act you must obtain and EPC certificate. To arrange your EPC inspection, or for more information please call us or send and an e-mail, and we will arrange your inspection for the earliest possible time.
To find out how we can help contact us.